CORRECTION: The Meals on the Bus will begin on WEDNESDAY, July 6, 2022.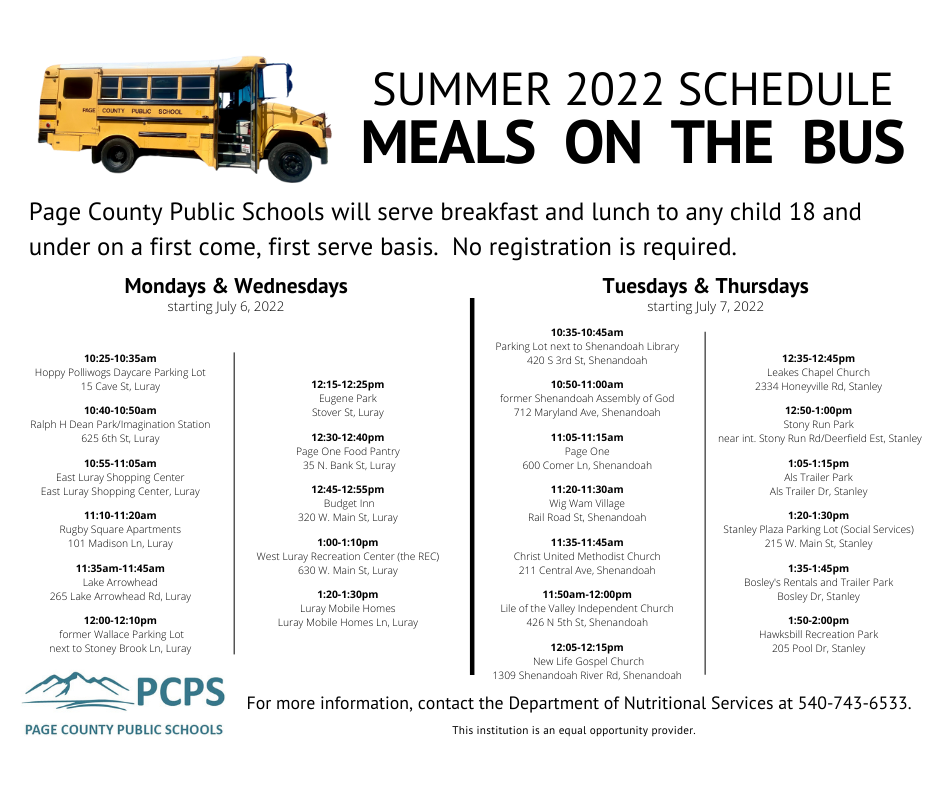 Beginning Monday, July 6, 2022, Page County Public Schools will be offering breakfast and lunch to any child 18 years and under. This is on a first come, first serve basis. Please see the schedule below for locations and days.
https://5il.co/1cx3v
Please share. Thank you.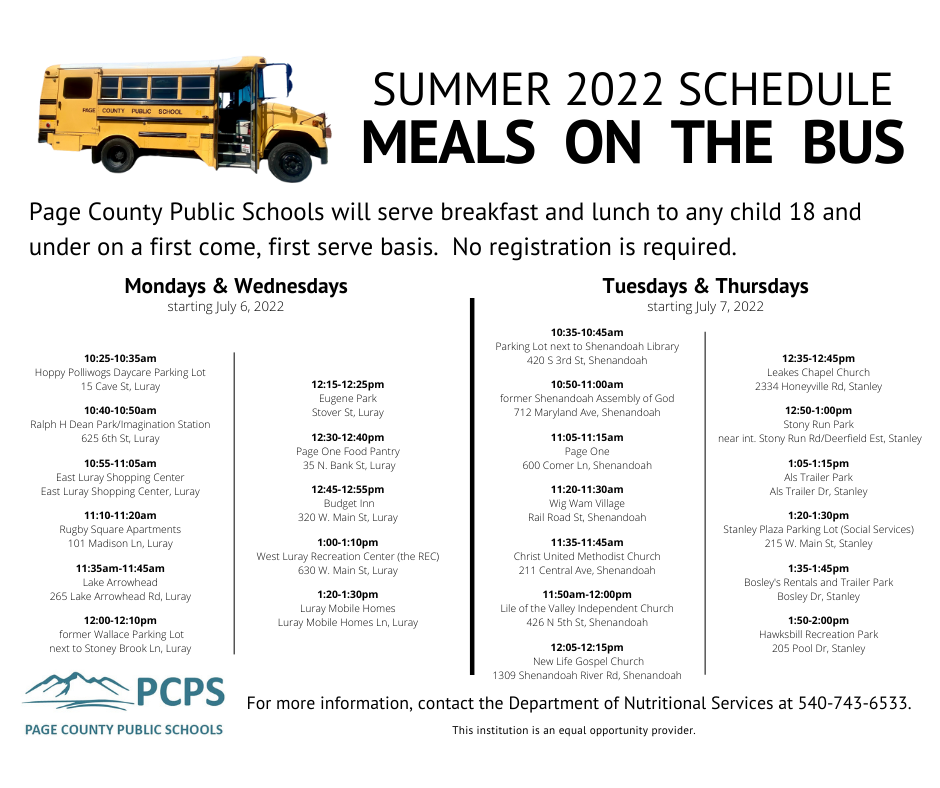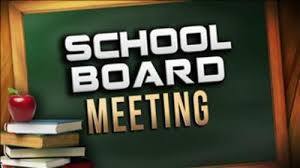 Please welcome, new assistant principal of Shenandoah Elementary School, Mrs. Teresa J. Shifflett.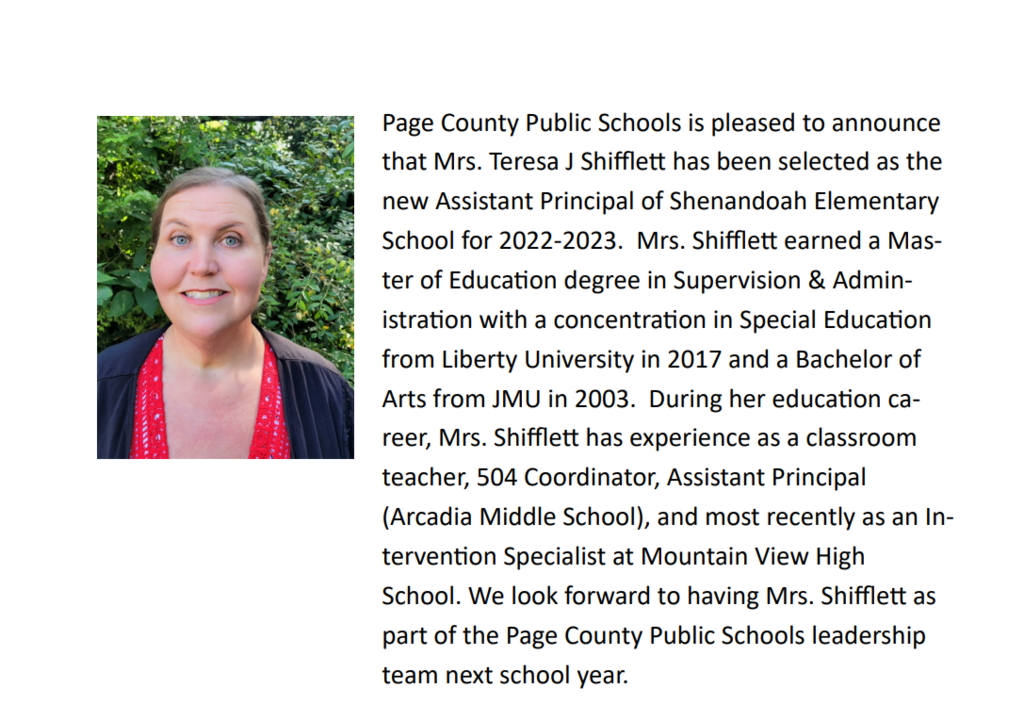 Assistant Superintendent for Instruction, Accountability, and Innovation Named - Please read this letter for more information.
https://5il.co/1bl9y
Thank you!

Page County Public Schools would like to wish everyone an enjoyable and relaxing summer. We will continue to keep you updated with summer activities and information for the upcoming school year. Happy Summer!

Page County Public Schools would like to make the following announcements for principal of Springfield Elementary School and Supervisor of Career and Technical Education/Workforce Readiness for the 2022-2023 school year. Congratulations!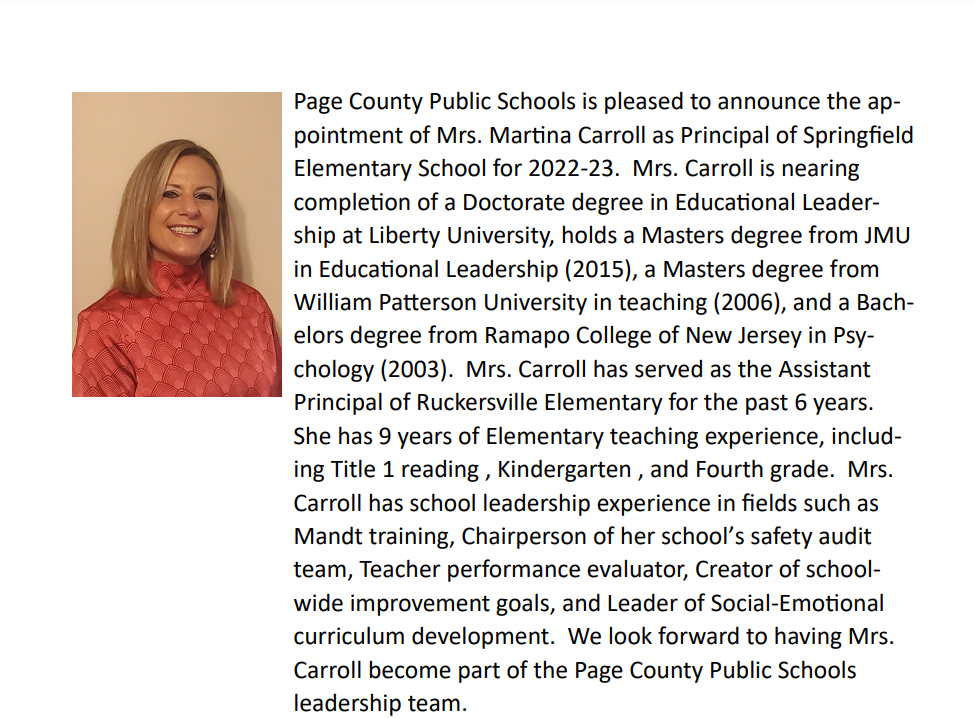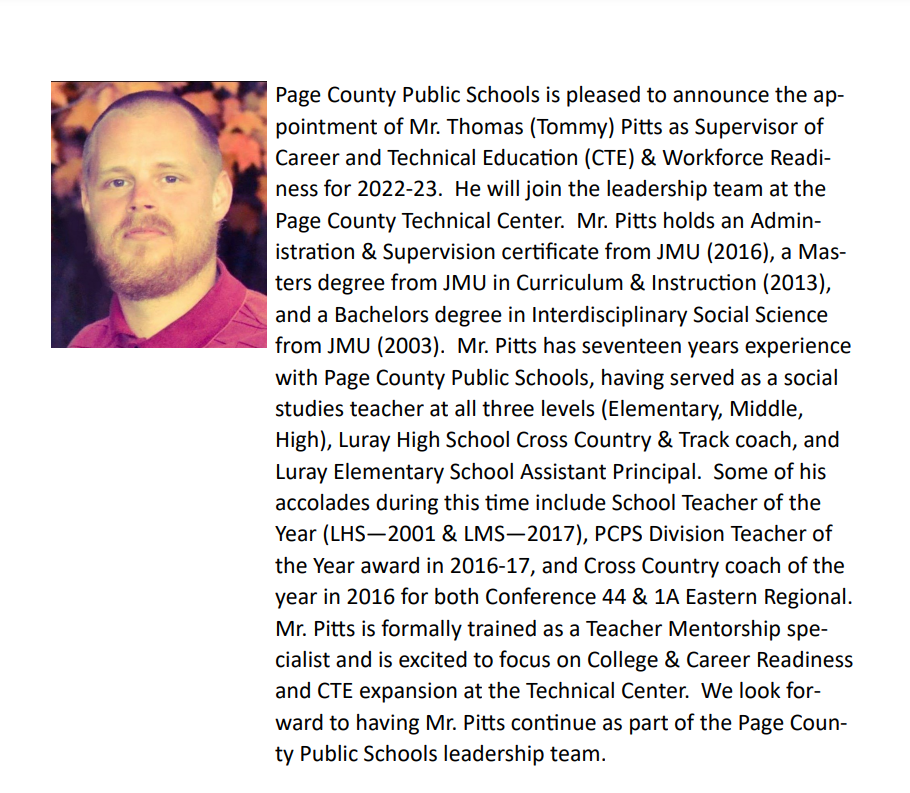 Just a reminder that today is the last day of school. Students will release at 12:30 p.m. Have a safe and wonderful summer.


Please read this important letter from Dr. Antonia Fox, division superintendent.
https://5il.co/1b2ne
Thank you.

IMPORTANT REMINDER FROM PCPS: This is a reminder that Thursday, May 26th and Friday, May 27th, are 12:30 p.m. release days for students. Thank you, and please share.

We'd like to take a moment and thank all of our dedicated School Resource Officers for all that they do for our administrators, staff and students each day. They have a big responsibility in making sure that we are kept safe, and we appreciate all the hours they put in to be there for everyone. Thank a School Resource Officer. They deserve it.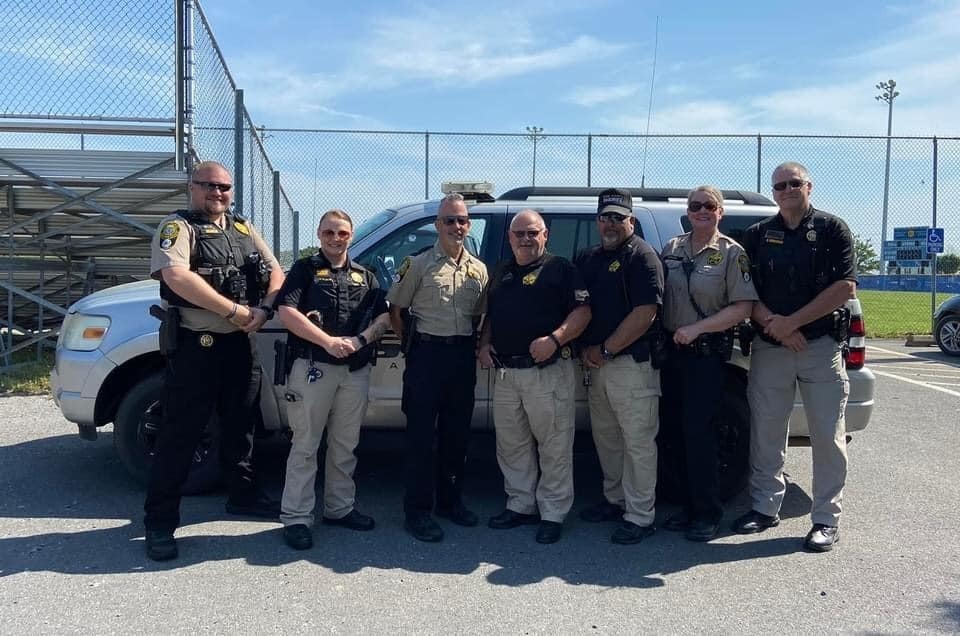 Student registration for the Arts &Cultural camp and Sports & Recreation camp will end close on Friday, May 27, 2022. Student registration for the STEM camp and the Environmental camp will close on Friday, June 3, 2022.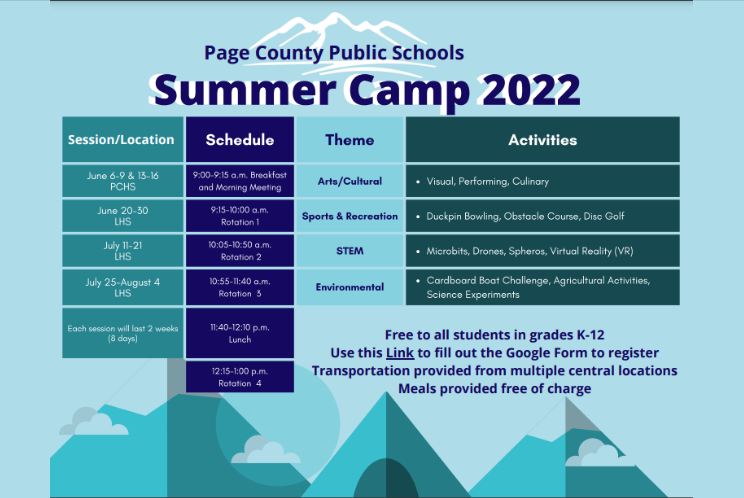 ARP ESSER III Feedback PCPS is seeking feedback from staff and parents on the use of American Rescue Plan (ARP) ESSER III funds. Please take a moment to provide feedback using THIS FORM by May 31, 2022. Feedback will be considered when updates or revisions to the plan need to be made. Thank you!

Today's your day, seniors! You made it! Congratulations to the Class of 2022. You've made us proud!

Become part of a growing group of unique young women! Shenandoah Reel Women (SRW) and the Friends of the North Fork of the Shenandoah River (FNFSR) are pleased to announce the upcoming fly fishing camps made possible by the 2021/22 Virginia Wildlife Grant Program through a partnership between the Virginia Department of Wildlife Resources and the Wildlife Foundation of Virginia and awarded to FNFSR. The registration fee for this camp is $125. Scholarships are available. Registration for either of these camps can be made at
https://www.fnfsr.org/srw2022
. For more information, please contact: Joan Chapman, Shenandoah Reel Women, 703-507-2276 or
joan.chapman@fnfsr.org
or Julia Sargent, Director of Programs, Friends of the North Fork: 540-459-8550 or
julia.sargent@fnfsr.org
. *These materials and the activities described are not sponsored or endorsed by the Page County Public Schools.*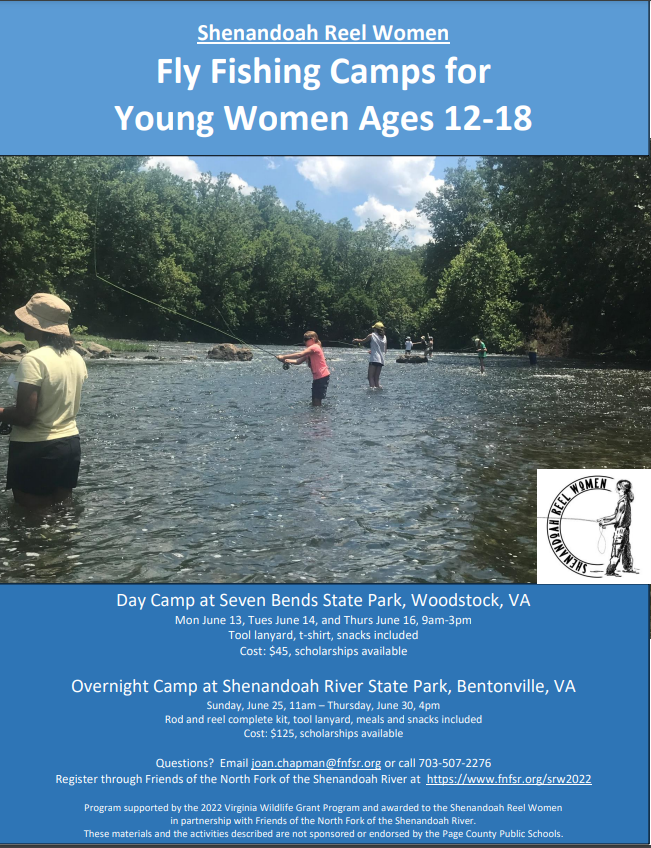 Principal for Shenandoah Elementary School Announced: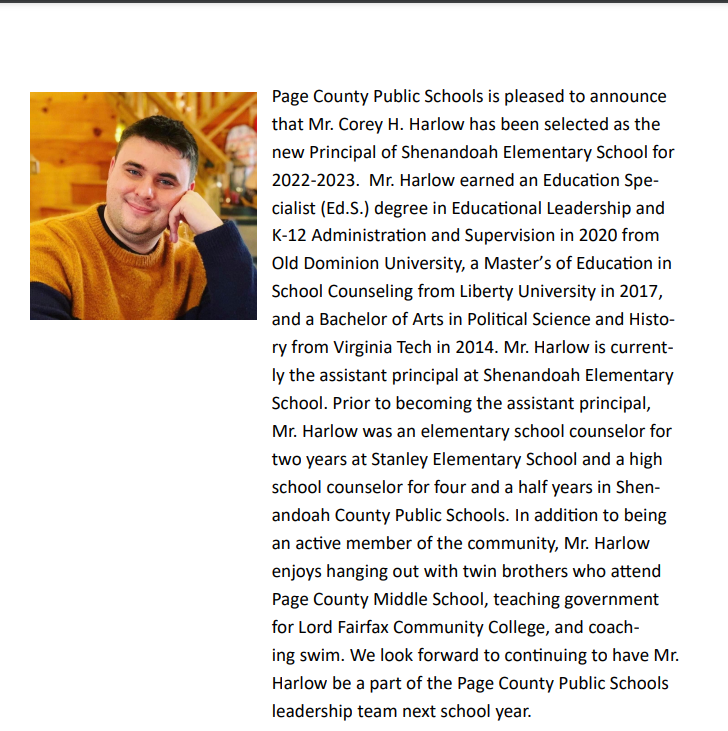 Students & families - Please see some of the activities planned below for the STEM Summer Camp session July 11-21, 2022. Registration is still ongoing through the Google Form.
https://forms.gle/VWDcLPHU3HBWU7Ha6
Drones- Get unique views of your surroundings using drones. Learn to fly and manage a drone. Practice your control and participate in challenges to see who can pilot their aircraft successfully. Virtual and Augmented Reality- Experience the world in a whole new way with virtual and augmented reality. Have you ever wanted to hold the entire solar system in your hand? Want to travel to places you have never seen? Enjoy fun interactions using virtual reality headsets, Merge Cubes, and iPods that will immerse you in technology to amaze you. Spheros- Drive or code programs to navigate obstacle courses with these small round robots. The only limit is your imagination. This is very adaptable from simply driving the robots to challenging yourself with programming in Block or JavaScript. Microbits and Coding- Learn some basic coding skills or advance your previous coding abilities using these neat microchips and their accessories. Exert your control over fans, buttons, and lights, oh my! Create cool projects that can be coded in Block, JavaScript, and Python.

Page County Public Schools is pleased to announce the new Assistant Principals for Luray Middle School and Stanley Elementary School to begin July 1, 2022. Welcome to Page County Mr. Lechota and Dr. Bartlett!